Tracking European Jazz Rarities and More on eBay
Maybe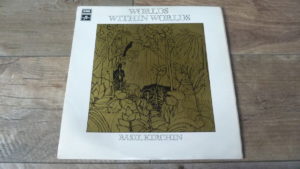 I've said this elsewhere, but the longer I've been interested in collecting jazz records, the more deeply I've gotten into jazz records from "elsewhere" or at the very least far outside the canonical realm of collecting. I suppose that's relatively normal – the more time one spends with something the deeper one gets into it, and with music, the further afield one's results will fall. It's perhaps a "long-tail" of taste, and has led me to European and Japanese jazz as well as numerous obscure, often privately-pressed American jazz gems. Though my tastes remain well on the avant-garde side of things, that's not a necessity for enjoyment.
Here's one that really caught my eye recently; Danish drummer Bjarne Rostvold recorded with Kenny Drew, Bent Axen and Allan Botchinsky among others. Probably his rarest side is Jazz Journey, recorded for the tiny label Hit Records with Axen, Botchinsky and Erik Moseholm on bass. It was reissued by Sawano several years ago and even that pressing is fairly pricy. A few originals have turned up over the years, usually in pretty rough condition, and still netted prices north of $500. Well, this copy really went into the stratosphere, closing at $3,700 with the vinyl in presumably VG+ or VG++ for the record and a weak VG+ for the cover. It's far rarer than a lot of in-demand American modern jazz LPs, so the price seems commensurate… while still out of the range of sanity for me.
Falling a little afield from the jazz or free-jazz realm but still of interest to collectors of improvised music is this wonderful LP assembled by electronic music and sound library composer Basil Kirchin, featuring improvisations with Derek Bailey, Evan Parker, and and uncredited cellist and percussionist mated to a fascinating array of tape-manipulated field recordings. Worlds Within Worlds is a very special record and probably one of the weirdest albums to come out on UK EMI/Columbia (there's a second volume with the same title on Island, released a few years later). This copy is listed in "EX" or probably VG++ for the record and VG+ for the cover, which looks to have suffered a bit of water damage at some point though I guess it's still presentable. The bidding has it just shy of $300 with a day to go, though it will probably top twice that.
A bit more in the realm of classic American jazz (hard bop) but still not well-known by any stretch is a sextet LP led by drummer Dave Bailey for the small Jazz Line/Jazztime label, Bash!, featuring an all star lineup of figures like Curtis Fuller, Tommy Flanagan and Kenny Dorham. It's certainly not a common record and usually when it comes up for sale it's been put through the ringer. Boston area seller Stereo Jack's had one in probably VG++ condition for the record and VG+ condition for the cover, and it ended at a cool $1,259 – certainly the highest price I've seen it at auction. Hope the buyer is satisfied with the condition.
At any rate, as always, happy collecting and happier listening!