Still More Adventures in Jazz Collecting, Part 1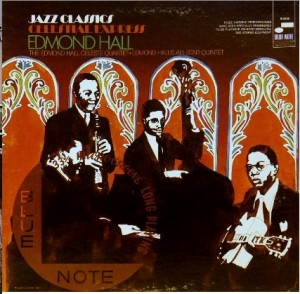 So I mentioned the other day that I recently purchased a record collection. Here is the story.
A few weeks ago a woman sent me the following e-mail:
"I'm wondering if you can help me. My dad passed away suddenly in an accident. He left a huge jazz collection of approximately 2500+ vinyl albums. He died at 82 and was a jazz enthusiastic since his teens and his collection dates back to then. To his great disappointment I did not share his passion for jazz. I am interested in selling his collection. How can I go about finding its value? I've read some of the information on your blog and realize I need to consult an expert. Any guidance you can give would be greatly appreciated."
I get emails like this fairly often now that I do Jazz Collector. They usually  don't turn out to be much. I generally look to help people over e-mail and my advice if they have anything collectible is to usually tell them to try to sell the records on eBay. I'm not necessarily looking to purchase collections: I'm still a collector and not a dealer and I have way more records than I have places to keep them. Some of you, Rudolf I'm sure, may even recall that I began a project several years ago to pare down my collection, which I grandly labeled The Great Jazz Vinyl Countdown. Needless to say that project is quite defunct.
I do enjoy helping people and sharing my knowledge, which is one of the reasons I love doing Jazz Collector, and I also continue to keep an eye out for interesting collections. So I did what I normally do when I get an inquiry like this, which is to first try to figure out if the records have any value. I wrote back and suggested that she look through the records and pull out any Blue Notes, Prestiges or Verves and let me know some of the titles, so I could get a sense of what she might have. Oh, and I also asked where the records were located. I figured if the records were convenient to either of my homes in New York or Massachusetts I could always stop by and take a look.
A few days later she wrote back with a list of records. She said she went through about 100 records. There was one Blue Note – Jazz Classics, Celestial Express, the Edmond Hall Celeste Quintet.  There were two Prestiges – Bean and the Boys, a Coleman Hawkins reissue, and the Walter "Foots" Thomas All Stars, which, honestly, I had never heard of.  There were several Verves, which consisted of a few Roy Eldridge records and a JATP record.  I wrote back and asked if any of the Verves had a drawing of a trumpeter on the label. She wrote back and said they could not locate a drawing of a trumpet player on any of the labels I mentioned.
Based on the evidence at hand, I figured, eh, not a collection worth pursuing, at least not for me. It didn't seem like a collection with original pressings and it seemed to tilt more towards more traditional jazz as opposed to the bop and hard bop of the '50s and '60s, the jazz that most of us here at Jazz Collector love and crave. If the records weren't at a convenient location, I probably would have just passed up the opportunity and told her to look on eBay to see if she could find comparable records to see if hers had any value.
But she told me the records were located in Massapequa, which is in my old stomping grounds – and record-hunting grounds. When she gave me the address I realized the records were literally around the corner from my favorite record store, Infinity Records. At this point I really assumed the collection was nothing special – if it was anything special, surely my friend Joey at Infinity would have gobbled them up by now. However, it was Massapequa and I was planning to drive from The Berkshires to Long Island with the lovely Mrs. JC on the following Monday, and I figured I could take a look and then, worse comes to worse, stop in and say hi to Joey at Infinity.
So I set up a time to see the records.
What happened next? Stay tuned for Part Two. The following picture will give you a hint of what's next: