A Classic, But Is It A Collectible?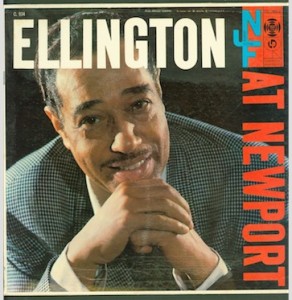 Following up on the latest auction from the Jazz Record Center, starting with Duke Ellington at Newport, Columbia 934. This was an original mono six-eye pressing. The record itself was sealed — in those days Columbia had a sealable inner sleeve. So the record was unplayed and the cover was M-. The price was $227.50. This is quite an important record in the history of jazz, capturing the concert that helped to revitalize Ellington's career, but I've never known it to be particularly collectible. I've had original pressings at record shows and haven't been able to sell them, even for $20. I'm not sure how much the market has changed for this record, although in certain circumstances, such as this one, clearly it can now sell for collectible prices. There was a previous copy that once sold for about $127, but the seller was bobdjukic so I've always assumed that was an aberration.
John Coltrane, The Believer, Prestige 7292. This was an original yellow label pressing with the New Jersey address. The record looked to be in M- condition and the cover was M- as well. The final price was $144.37. I've always felt this later Prestige original Coltrane pressings were a potential bargain. It was all original material, it was just issued after Coltrane had moved on to record for Atlantic. These are all excellent records, with Trane playing a lot of standards, often in quintet settings. Getting an original Trane Prestige for less than $150 seems like a good deal to me.
Oliver Nelson, The Blues and the Abstract Truth, Impulse 5. This was an original white label mono pressing that looked to be in M- condition for the record and the cover. It sold for $182.50, another potential bargain, IMHO. Jazz at JJ's. We wrote about this one the other day, so you can click that link for details (my Internet is running slow, so I can't link to it now). This one sold for $525.55. Dave Bailey, Bash, Jazzline 33-10. This one was in M- condition for the record and probably VG+ for the cover. It sold for $616.69.